Pittsburgh & West Virginia "Alphabet Route" hopper cars (# 126)
Instructions August 18, 2013
Great Decals!, 3306 Parkside Terrace, Fairfax, VA 22031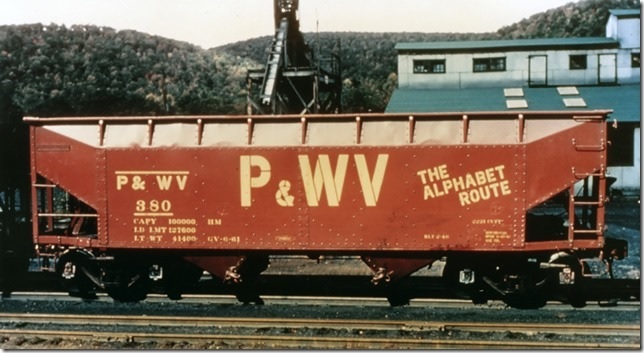 Road Numbers - All of the "THE ALPHABET ROUTE" hopper cars were painted red with chrome yellow lettering. A little bit of history, originally these 2 bay offset side hopper cars were built by the Pressed Steel car company in Pittsburgh in 1949 and numbered 1 through 600. By 1960, these cars were in need of repair but the P&WV was short on cash. It appears the P&WV sold 375 of the Pressed Steel Car Co. cars to Greenville Car company. Greenville then rebuilt the cars and painted them into the "THE ALPHABET ROUTE" scheme and leased them back to the P&WV. It also appears the P&WV used the money from the sale of the first 375 cars to have the remaining 220 cars rebuilt and repainted into the "THE ALPHABET ROUTE" scheme.
Car Color - One of the members of the P&WV HS has recommended Polly Scale "Zinc Chromate Primer" Part Number F414293 for freshly painted cars only. Once these cars begin to weather, they appeared to turn a reddish orange in color.
Acknowledgments - Special thanks go to Richard Shirey, Baden, PA, M. David Vaughn, of Columbia, MD, and Jim Wilhite of Anderson, IN, without whom this project would never have happened.