Virginian 44-Tonner Decals,
HO (#110), N-scale (#111), and S-scale (#115)
Instructions March 24, 2011
Great Decals!, 3306 Parkside Terrace, Fairfax, VA 22031
www.greatdecals.com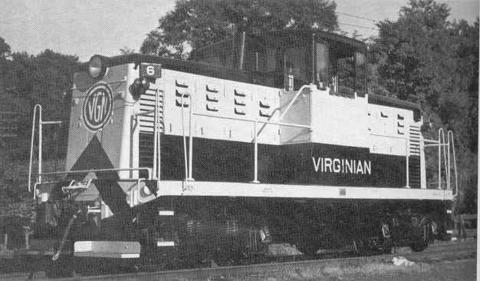 Suitable Models - While plenty of 44-tonners are available, the Virginian owned an elusive phase 1 with flat ends, making application of the herald from this set easy.

Road Numbers - The Virginian owned one of these, #6. Other road numbers have been provided to allow you to have several of these on your railroad. Smaller numbers are provided so that you can customize the Virginian class: #7 - DE-7. The road number is not shown in the illustration above, but appears in the center of the yellow area of the cab, above the black area with the word Virginian.

Locomotive History - The railway purchased this locomotive used in 1954 and assigned it to the Suffolk yard.

Properly stored, these decals should remain usable for many years.

Acknowledgments - Special thanks go to the Norfolk and Western Historical Society, Mark Fischer, of Williamsburg, VA, Curt Fortenberry, of North Pole, AK, Sam Holben, of Gloucester Point, VA, and Ron Roberts, of South Elgin, IL, without whom this project would never have happened.